Liya Jacobi Has a New Take on the Nostalgic Waterful Toy
One of the things I like most about art is when you take some common item and redesign it to for additional use. Of course, I give this process more points if the item in question is related to the 80s or 90s.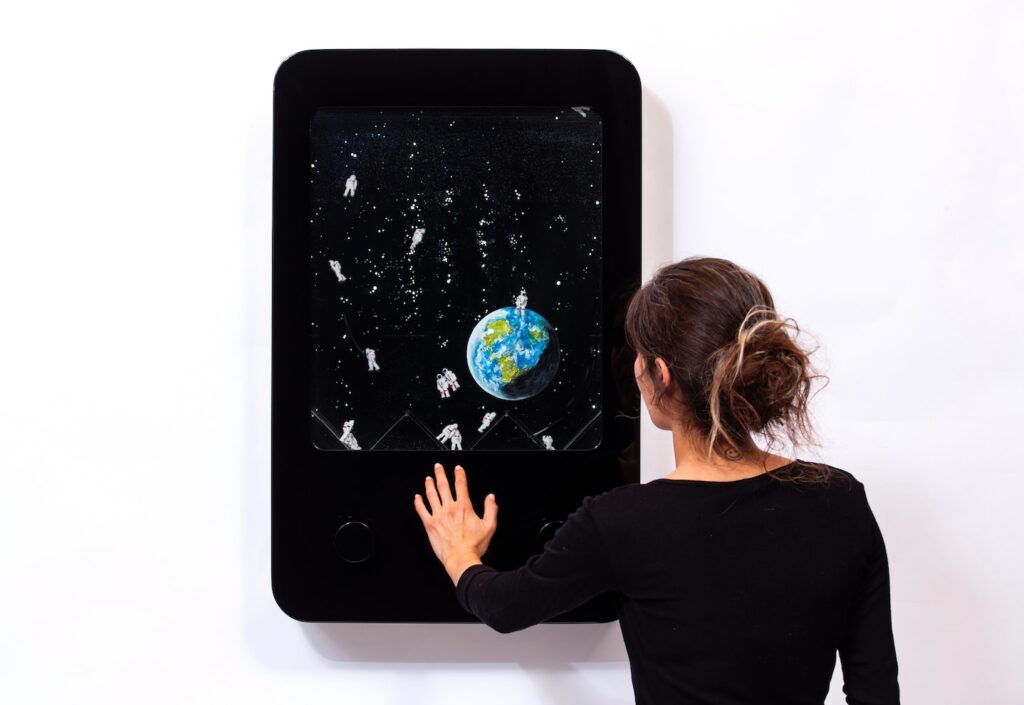 That's why I was so fascinated with Liya Jacobi's work on waterfuls, which are based on one of my favorite toys growing up – the Tomy Waterful. Liya is a 34 year old full time artist from Israel, who realized her passion for art at a very young age and always leaned towards it. At school she always took art related classes and for university she lived in Milan for 3 years to study Graphic Design. Nowadays, Liya lives on a quiet street at the center of Tel Aviv, where she also has an underground studio space that's very close to her apartment. Liya spends her days in her studio, which is basically her second home, creating, painting and drawing away. 
What inspired you to create the Waterful? Have you played with the Tomy one back in your childhood?
Definitely. The toy itself by Tomy, from 1973, is the main inspiration behind Waterful. I played with it as a child for hours, and still own one. Sometimes I still play with it, although I mostly rather play with my own Waterfuls now 🙂 My background is Graphic Design, Toy Design and special needs child therapy. So I guess Waterful was born thanks to my passion and love towards design, kids therapy and art combined. I had a dream of having such at home. So I went and created it.
What's the creation process like? How long does it take to make one?
Creating the first functional and visually satisfying prototype of Waterful took about two and half years of trials and failures. There were issues with design of the mechanism which caused many problem such as leaking of water, which is the first thing you want to avoid with an installation like Waterful. Once we had the first prototype, the rest depended on my imagination and with each Waterful, I tell a different story. The size and structure remain the same but they all look and feel very different from each other. They are one-of-a-kind works.
The structure is made of layers of wood and the aquarium inside is made of plexiglass, which can hold up to 17 litres of water. Each object that is placed in the water container is printed and tested tirelessly so that it has the precise weight for it to float properly in the installation. The technique and materials I use for the theme itself changes depending on the story and the feelings i want to achieve. Each Waterful is different in that sense, and taking few months to create.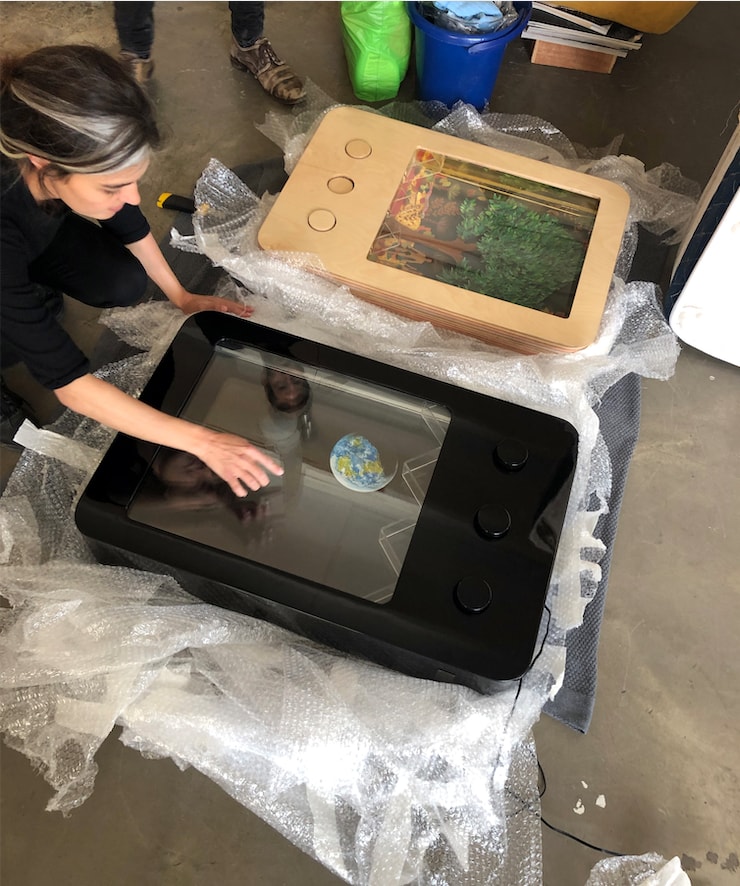 What are your favorite Waterfuls of those you created?
I honestly can't point at one of them. They are all my babies. I'll mention down three though.
Adam and Eve was the first Waterful after the prototype. When I created the frame for this one, i used thin layers of wood and left them in an ink bath for a week in special boxes I built especially for this process, where the layers of wood soaked up different pigment colors. For the tree in the background, I used more than 1,000 leaves to achieve a 3D effect. In order to create them I used slim iron wire and curved into a shape of a leaf and then dipped it in wood glue and paint. It took me months to prepare these leaves but in the end it was worth it.
Waterful Knowledge was inspired by a huge library located in Germany. For the background I drew on different layers of plexiglass and combined them in order to create a depth effect where also the transparency of the plexiglasses are maintained. The frame was painted in a special process using metallic car paint.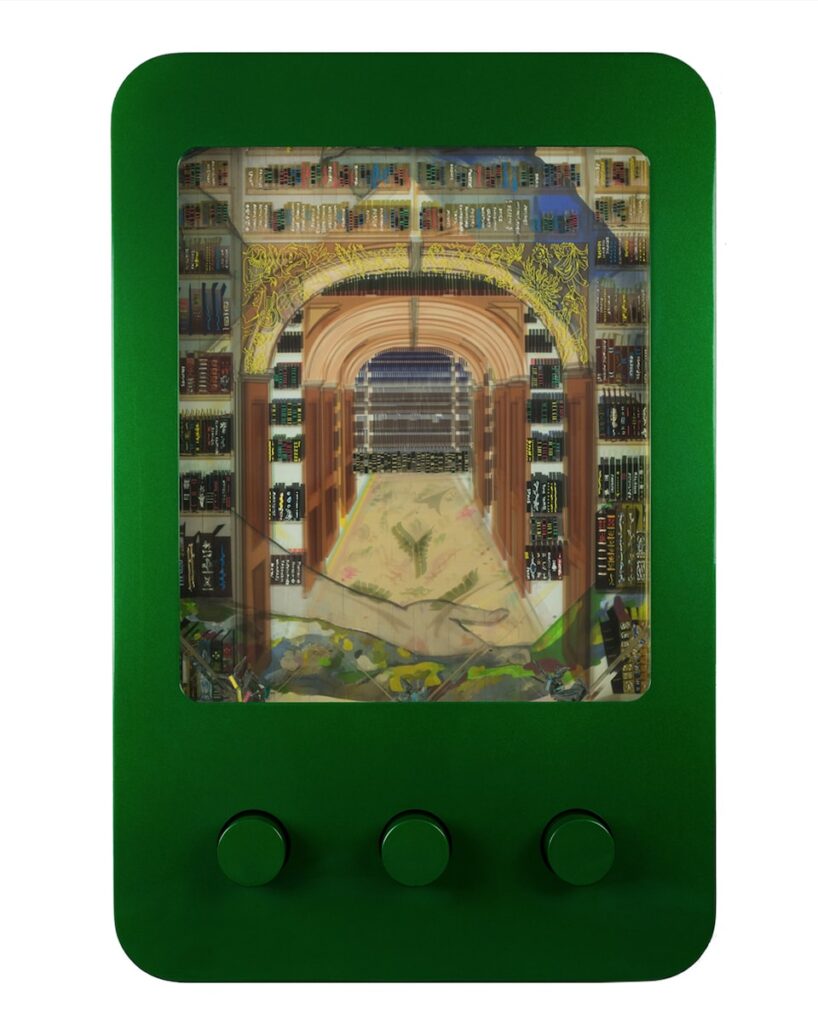 For Wonder Rooms, I got inspired by the painted ceilings at the Louvre museum, and the drawings of Michelangelo and Picasso, and added a childish-retro feelings to it. I drew on different layers of plexiglass and again combined them together to give it a more 3D, colorful and joyful feeling. For the frame I used layers of wood but this time combined it with formica to give it a granite like feeling.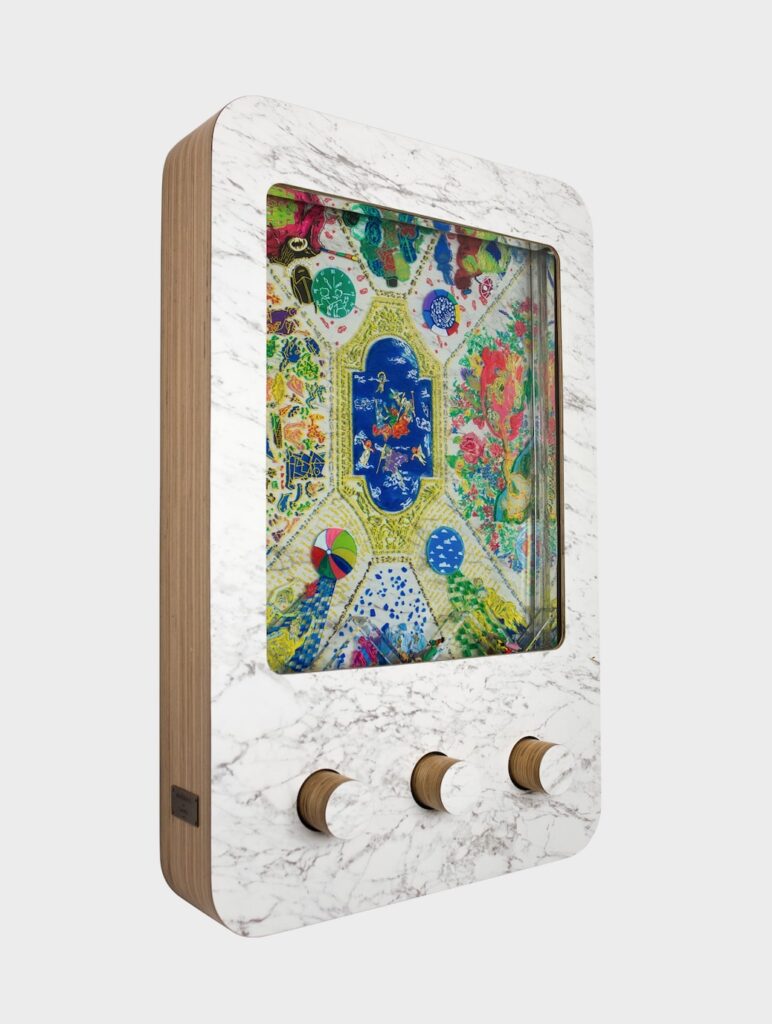 They all look pretty cool! How can I buy one of these?
THANKS! In order to buy a Waterful you are welcome to contact me directly, visit my studio or galleries where a Waterful is being displayed.
I even had 2 clients who bought it online and we shipped it to their countries. They both said that seeing it in real life was beyond their imagination.
Waterful Adam and Eve, Waterful Space, Waterful Knowledge, Waterful Noah's Ark and Waterful Universe are sold.
For availability of others or any other question, email me at: jacobiliya@gmail.com
Are you planning to make small sized Waterfuls?
I've thought about making small sized Waterfuls (with one button) but because of the mechanism, it didn't function the same as the one i perfected and i wasn't happy with the impact of it. Therefore the size remains 80x55x15 cm.
What do you think about relying on nostalgia when making art? Do you feel it's any different than utilizing other feelings?
Well, i think working with kids for 10 years allowed me to take several trips back to my own childhood and implemented an ever growing feeling of nostalgia inside me. Now I realise that everything i create unintentionally comes from this place. I am a toy collector myself, i love animation and cartoons. Nostalgia is what drives me to create and for me it's not only about my past. It also contains my present and my future. Memories from my childhood, my fears as a grown-up and my imaginary world wrapped up into one.
What are your plans for the coming year?
My plans are to be able to continue doing what i do which is to create. More Waterfuls, more drawings, paintings or sculpting, to keep on learning within the work I do, especially at Covid times. And hopefully to keep on showing my works, both in Israel and abroad.