Denny Busyet Designs Beautiful Nostalgia Scenes
I've first noticed Denny Busyet's work a couple of years ago, when I stumbled over his amazing Synthwave Sunset Drive artwork. Ever since then, I've witnessed him creating more great content and even do collabs with other musical artists.
Denny is based in Indonesia and spends his days at home doing creative things, playing simulation / RPG games, and watching movies.
What made you pick the 80s and 90s as your main art themes? 
I've been trying lots of art styles in the past, not just 80s and 90s. Finding an art style requires lots of time and journey in the making. I believe my current style is manifested from that long process. Furthermore, the fact that I was born in the 80s and grew up in the 90s, makes me naturally in love with these eras. I want to bring back and inspire the viewer to sweetly reminisce about the good old days and the bittersweet feeling of nostalgia through my artwork.
What are your favorite visuals you made?
Paradise and First Kiss!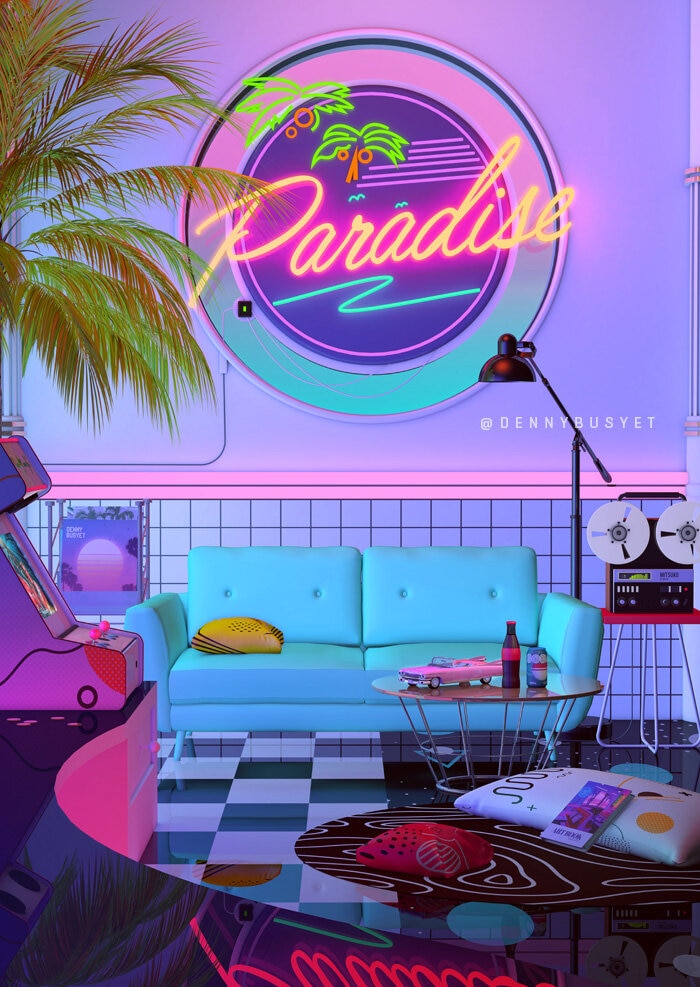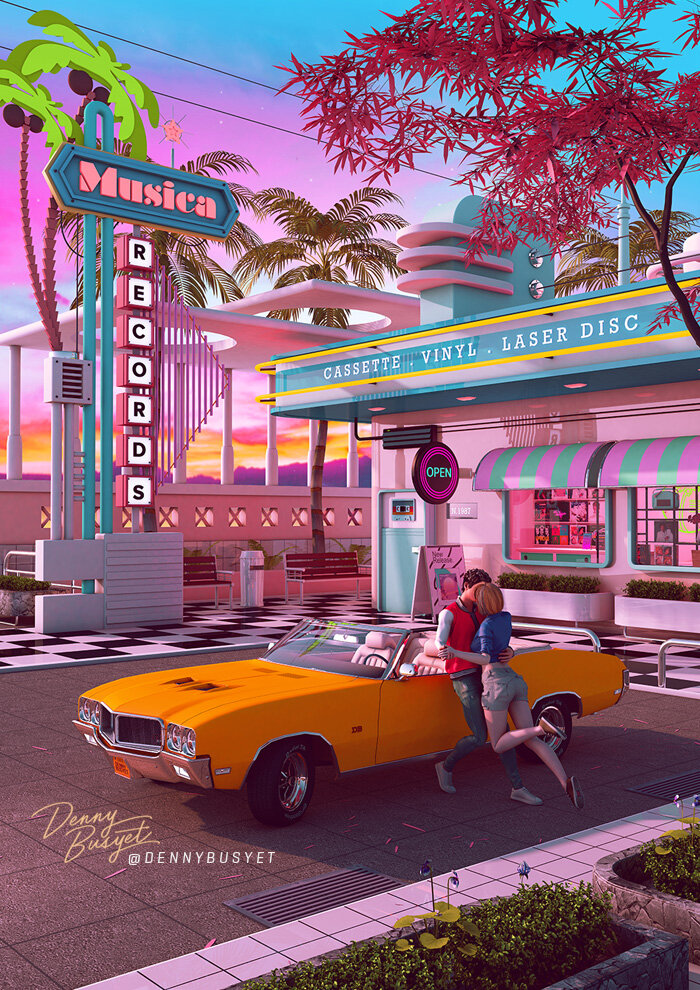 What tools do you use to make your art?
Cinema4D (3D Modelling), Affinity Photo (Post Processing), and DAZ3D (3D Character).
I really like the musical collabs you make. Great audio visual experience! How does this process work? Do you come up with the image first and then find the musician?   
I mostly do a static image for printing purposes on my merch store and rarely do videos. So basically yes, I come up with an image first. If I decide to add some animation, I'll find a song on my daily synthwave playlist and ask the musician to use that song.
You get to do an album cover for any band or singer of your choice. Who would it be?
Timecop 1983, The Midnight, FM-84. Those are my top3 List.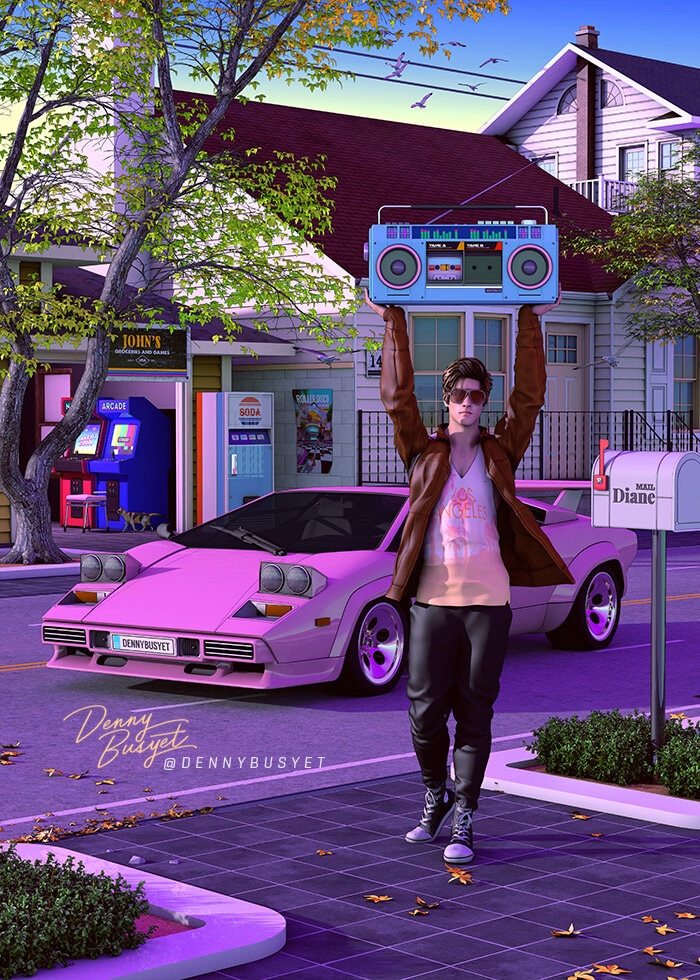 What are your thoughts on Instagram as a marketing tool? How has it affected you? Do you use any other social media sites? 
You can find me everywhere on social media sites, it's one of the best marketing tools since billions of monthly active users hang out there. Overall, social media affected me a lot, as I got clients from Instagram and my followers are starting to buy my products. I also get to network with musicians and meet new artist and friends. Those are the positive things I've experienced.
However, don't forget the darker side of social media and their algorithms. I think the key to social media is to be active on a daily basis, while consistently posting and engaging with your followers. This is hard for artists, who spend most of their time creating art and less on social media. Therefore, I'm not surprised when I see "reposter" pages with huge amount of followers and great engagement rate. They can repost any content from great artists on daily basis, resulting in consistently receiving likes and comments and new followers. The IG / Reddit / FB algorithm sees this as a successful account, meanwhile less active artist page is gradually failed and dead, it sucks but it is what it is, no complaint and try to find the solution.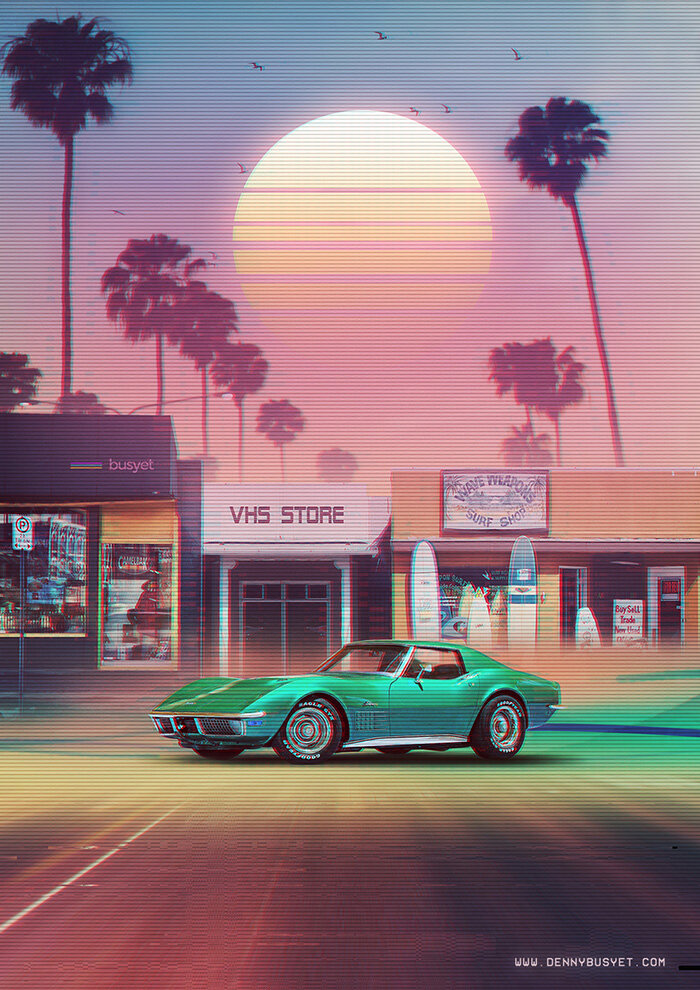 80s or 90s?
Both.
Fair enough! What about your plans for 2021 ?
Slowly but surely I learn how to improve my animation skill, I always want to do this on my artwork, even better I can do more collaborations with musicians and bring more videos to audiences.